HEEL SPURS

An intense, sharp pain at the bottom of the heel may be caused by a heel spur. This growth of extra bone on the calcaneus or heel bone is believed to form when the connective tissue that extends from the heel bone to the base of the toes pulls excessively on the heel. Certain disorders such as an abnormal flatness of the arch and sole of the foot, as well as those that cause the heel cord to always be contracted can increase the risk of heel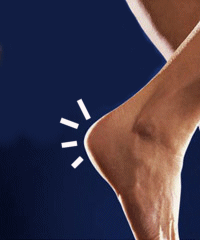 Biomechanical dysfunctions of the foot can cause heel spur to form in which case custom-made orthotic insoles are recommended.

Heel spurs are not painful by themselves but are indicative of a long history of excessive pull on the plantarfascia (a ligament on the underside of the foot).